Share Availability
How to use Share Availability
The Share Availability enhancement makes it effortless for your recipients to confirm meetings with you — directly within their email.
To instantly propose times for a meeting, hover over the Meetings menu at the top of the compose window and click Share availability:
You can also use the slash command: type /cal to launch the share availability calendar.
Next, fill out the event details (title, location, description, and time zone). Mixmax remembers common locations and meeting titles via autocomplete. You can also select them from a dropdown by clicking the arrow. For time zone, select the time zone of your recipient. You can add additional guests that will automatically be invited to the event once your recipient chooses a time. We also prevent double-booking by default.
You can schedule on your own calendar, or schedule on a calendar that has been shared with you. Here's how to schedule on shared calendars.
Next, click a time on the calendar to choose a time when you're available. Click and drag down or across to select multiple times. These times appear in your time zone, and will automatically convert to your recipient's time zone when you insert the invitation in your email.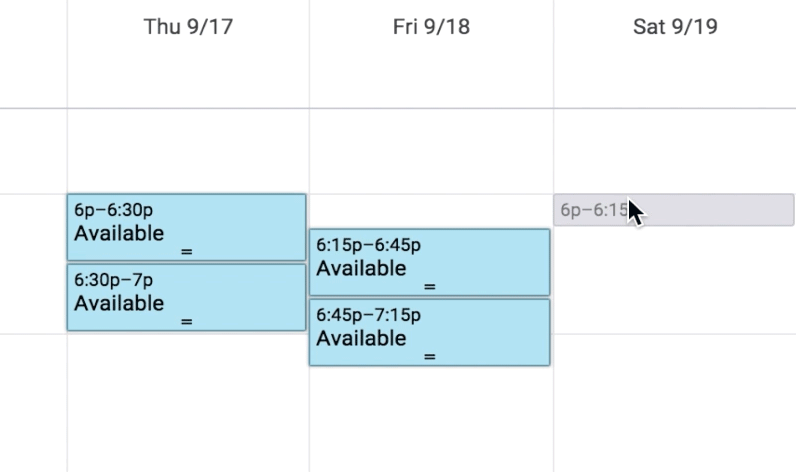 You can change the length of the default time slot at the top right of the calendar.
You can make an individual time slot longer or shorter by clicking and dragging the bottom of the box.
Once you have selected the times you want to offer your recipient, click Insert Times at the bottom left.
This is how the invitation will look in the email. What you see in the compose window is exactly what your recipient will see.
Your recipient only needs to click their preferred time to confirm the meeting.
If double-booking protection was turned on when you selected your times, and your recipient chooses a time when you're already booked, they'll see a pop-up asking them to select another time:
Once your recipient chooses a time, they'll see a landing page. (You can customize this landing page with your own logo and colors on the Growth or Enterprise plan.)
The event will automatically be added to both of your Google calendars, and both of you will receive a notification email confirming the meeting.
Check out this quick video for an overview on how to use the Share Availability feature:
Share Availability with Custom Fields
You can ask guests to provide certain information when sending your availability by creating custom fields. It's a great way to ask for phone numbers, preferred locations, website links, etc. Custom fields can be either optional or required.
How to add a custom field
When setting up your availability, click the Add Field button on the panel on the left. Here, you can select from one our suggested fields or create your own.
Required fields
Required fields are fields that must be filled before your recipient will be able to confirm a time with you. Required fields will be denoted by a red asterisk.
To switch a field from optional to required, click the field then select the Make Required option.
If your availability share has any required fields, when a recipient selects a time they will be taken to a page asking them to enter the requested information. This information must be filled before the meeting is booked if you've chosen to make your custom fields required.
Optional fields
Optional fields are fields that are not required to be filled before your recipient books a meeting.
To switch a field from required to optional, click the field and select Make Optional.
If your availability share only includes optional fields, the recipient will be given the option to fill in the field, but can book the meeting without doing so. They will then be taken to a confirmation page where they have another opportunity to fill optional fields: